St. Chinos
The year before we received an invitation to attend the 2nd Annual St. Chino's Ride from Minneapolis, Minnesota to Stillwater, Wisconsin, hosted by the Black Label Bike Club (f/k/a Hard Time B.C.). We pondered going but our big trip to New York that summer demanded the vast majority of our energies.
This time around, however, we were game.
Thud, Megulon-5, and myself built tallbikes. Actually, me and Mgln5 built new tallbikes, but Mgln5 decided he liked his so much that he'd rather keep it, so my new tallbike and Thud & Mgln5's old tallbikes were boxed up together and shipped via Amtrak to Minneapolis ten days in advance of our departure ($50 for all three, if yer wonderin'). At pretty much the last moment, Spidey from the NYC branch of the CHUNK clan decided to fly out to Minneapolis as well. It was gonna be a big ol' reunion!
Then we flew out there, took a shuttle to the Amtrak station, and put our bikes together around the corner of the building. We had baskets and panier racks and whatnot on the bikes so as to carry all the camping gear we had brought along. The bikes looked pretty impressive all loaded up.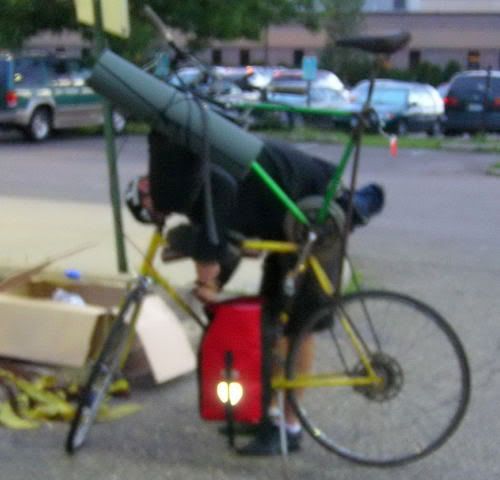 Thud attaches his gear to his tallbike's hard points.
My ill-fated tallbike.
All three of the CHUNK tallbikes, prior to departing to find the Hard Times Cafe...
About that bike in the middle's saddle: megulon5 forgot to pack his in the Amtrak box,
so he had fashion one from a circular piece of iron, duct tape, and cardboard scraps
'til we got to the Big House where he could get a spare.
We rode straight to the Hard Times Cafe because we figured we'd run into someone who would know who to contact about the ride, and, sure enough, just as we rode up, Mgln5 spotted Airaq, the Black Labeller he'd
met in Seattle
a long, long time ago during his period of self-exile. We went to the Big House, which was serving as the St. Chinos billet, essentially, and were assigned the front of the living room. The next morning we were cruelly introduced to the rooster that lived in a coop at the back of the living room. We went to breakfast with a bunch of the BLBC, and then came back to the house, drank beer, and waited for Spidey's flight to get in.
Unfortunately, I am unable to say much about our trip to the 3rd St. Chino's Run as on the second night there, I got distracted and ran my tallbike into a curb, knocking me unconscious and sending me to the hospital. Five staples to the scalp, an x-ray, three CT scans, and two nights in the Hennepin County Medical Center later, the ride had happened and it was time to fly home, where I got to spend a (sober) month on the anti-seizure medication Dilantin.
So I wish I had more pics, or stories, for that matter, but, like I said, the head trauma sorta took the wind out of my sails, and I wasn't around to take more photos anyway. Nor was Spidey, because he a was champ and stayed behind to give me sponge baths. Thud and Mgln5 said they had a good time, at least, reporting lots of mischief out at the St. Croix river. People duct taping people to trees and whatnot.