Pedal Monster
Emissaries from CHUNK 666 and DeadBaby Bikes gathered in San Francisco over the Fourth of July weekend for
PEDAL MONSTER
, a four-day hootenanny of "altered mutantbike mayhem" hosted by Cyclecide. The majority of the weekend consisted of hanging out with people who had either never met, or had maybe once or twice before.
The first day in San Francisco, Terry had his tall bike stolen after trying to sell tallbike rides for 50cents so he could make BART fare.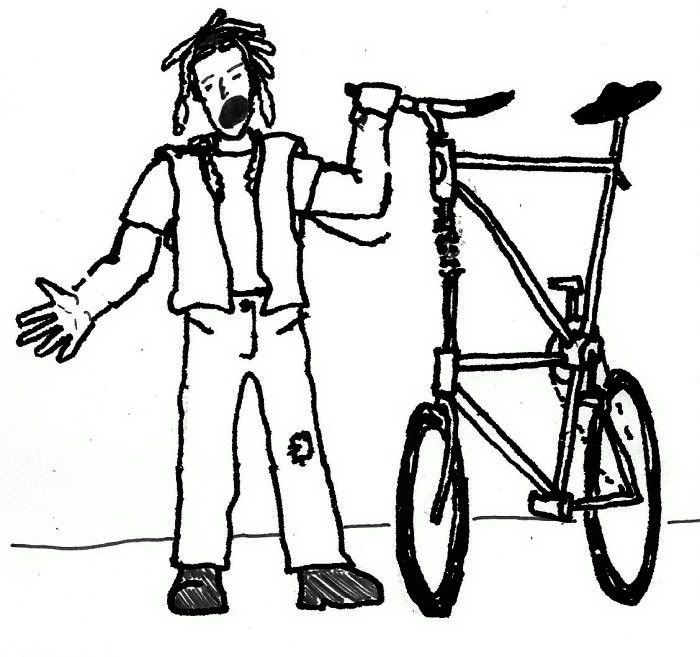 Artist's rendition
We drank the iciest-coldest beer to be found in the Bay Area! Cyclecide had one of those soda dispensing machines (installed after a certain roomie wouldn't ever chip in for beer money). Everyone would start drinking around noon and bullshit and laugh knowingly at the piles of parts and broken projects laying around the lot.
The DeadBabies & CHUNK 666 went on a survival ride around San Francisco. Not surprisingly, many beers were killed in the process, and the pale, untanned-skinned northerners arched eyebrows at the amount of rubbish in the streets (unlike pristine Portland and adequately sanitary Seattle).
Movies were exhibited at the 'pound, bikes were tried out, and everyone rode the Cyclecide pedal-powered carnival ride contraptions.
The ferris wheels.
The cyclofuge.
In the Cyclecide lot on the day of the big show, the "DeadBaby Bar" opened for business. In the interest of raising some extra gas money for the drive back to Seattle, the Babies sold vodka-Red Bulls for $2.00 a cup.
Not to be out-done I decided to sell CHUNK 666 patches for $10.00 a piece.
After about three hours, I had been haggled down to selling one patch for one dollar. The DeadBabies had drank about half of their vodka, and earned the 28 cents in pocket change I had on me.
On the fourth of july, CHUNK unleashed Flaming Bikes of Death upon an unsuspecting San Francisco.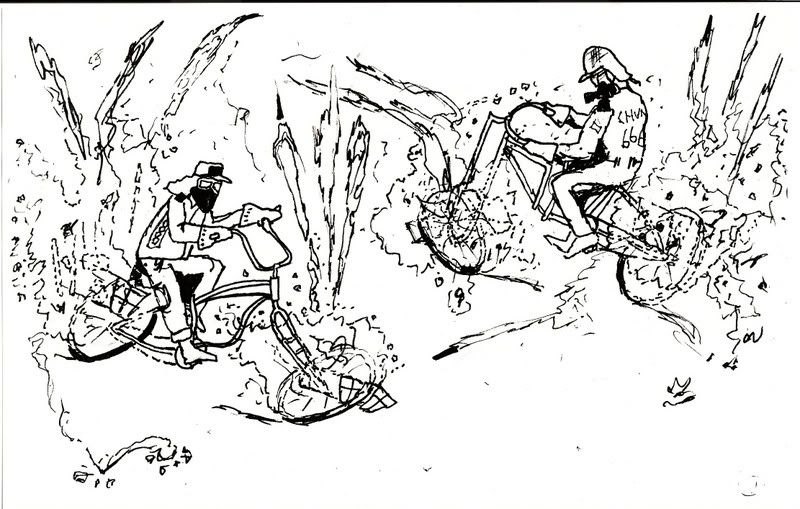 Artist's rendition
Ian also had all his tools stolen out of his truck - welcome to Bayview.