Unpublished Illustrations
Whilst browsing the stacks of the
CHVNK666
library the other day, I happened upon a series of illustrations of archival interest. Appearing to be proposed illustrations for an unpublished manuscript, they were loose in a large envelope, addressed to one of our illustrious and mysterious founders,
Dr. Phinea Burnout
.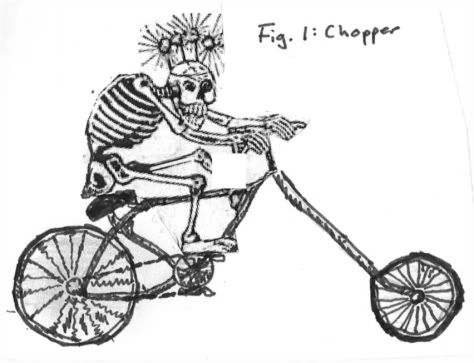 "
Figure 1: Chopper
" appears fairly straightforward. The chopper appears to be of standard design: some sort of "safety" bicycle with a mono-tube fork extension. Of somewhat more interest are the glowing orbs on the ends of small rods attached the rider's skull. I surmise this is some sort of progenitor of the
Flaming Bikes
of Deth of today.
The design of the tall bike in "
Figure 2: Tallbike
" (the rider of which, I might add, is sporting a curious, yet stylin', hat) is also familiar. Although, a short gazelle fork on a tall bike seems a little suspicious, if you ask me. Why a rider who had wings would choose to ride a bike in the first place is also questionable.
The design in "
Figure 3: Tandem
" appears practical, but my experience with chopper-tandems has been less than inspiring. Extended forks, especially mono-tubes, can rarely sustain the weight of two people for very long. That said, the rider playing the part of pilot appears clearly intoxicated. The second rider is either also intoxicated, terrified, ecstatic, or all of the above.